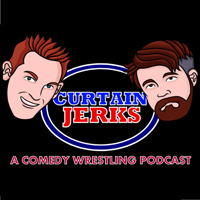 On a very special "Gets Jerked" episode of Curtain Jerks, Steve and Scott watch "3 Ninjas: High Noon at Mega Mountain" starring Hulk Hogan as Dave Dragon. If you haven't seen it yet, Spoiler Alert! During the recap, the jerks are visited by Hulk Hogan's stunt double Craig Shugart and the actor who portrayed TumTum, James Paul Roeske II.
Watch videos of Scott at San Diego Comic Con on
www.youtube.com/curtainjerkpodcast
Email us your embarrassing stories meeting pro wrestlers at
This email address is being protected from spambots. You need JavaScript enabled to view it.
Listen to Curtain Jerks on
www.comedypodcastnetwork.com
on Stitcher and on iTunes.
Subscribe, rate, and review the podcast on iTunes too
. Tell your friends about Curtain Jerks! Check out our archives to hear actual interviews with J.J. Dillon, Scorpio Sky (aka TNA's Mason Andrews aka WWE's Harold), John Morrison, Tommy Dreamer, and Heath Slater!