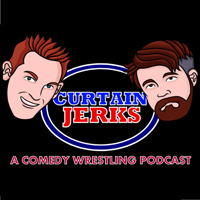 Jack Swagger celebrates Halloween late, Scott plays WWE 2K14 all weekend trying to beat The Undertaker's streak, the Miz's Dad returns and is unimpressed, Korporate Kane explains why he has aligned himself with Triple H and Stephanie McMahon, your #jerktweets are answered including "What does Wade Barrett think of John Cena getting a title shot for getting injured when the fighting Brit doesn't?" and Good News Barrett has a chubby.
Watch videos of Scott at San Diego Comic Con on
www.youtube.com/curtainjerkpodcast
Email us your embarrassing stories meeting pro wrestlers at
This email address is being protected from spambots. You need JavaScript enabled to view it.
Listen to Curtain Jerks on
www.comedypodcastnetwork.com
on Stitcher and on iTunes.
Subscribe, rate, and review the podcast on iTunes too
. Tell your friends about Curtain Jerks! Check out our archives to hear actual interviews with J.J. Dillon, Scorpio Sky (aka TNA's Mason Andrews aka WWE's Harold), John Morrison, Tommy Dreamer, and Heath Slater!