Todd Glass is a stand-up comedian and host of the podcast "The Todd Glass Show" on the Nerdist Industries network. Originally from Philadelphia, PA, Glass has been performing stand up since the precocious age of 16, and is well known for competing on the second and third seasons of NBC's television show "Last Comic Standing".
Currently based out of Los Angeles, CA, Glass has been a regular guest on many other programs, including "Late Night With Conan O'Brien",  "Politically Incorrect". "Tosh.O", "Mr. Show with Bob and David", "Jimmy Kimmel Live", and "The Dennis Miller Show". He headlined his own half-hour stand-up special, "Comedy Central Presents Todd Glass", in 2001. "The Todd Glass Show" podcast can be downloaded on iTunes or through the Nerdist website (www.nerdist.com).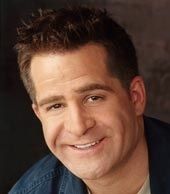 What sort of work did you do before comedy? 
I started comedy when I was 15, so the only other job I had was when I used to work for my neighbors Dairy Queen. Which is nice to know - if things don't work out, I can always go back to that.
What made you want to become a comedian?
 I knew at about 15 that I loved stand-up comedy. I used to love watching it on television. I would beg my parents to stay up and watch the comedians on the tonight show.
Who are your comedy icons?
 I grew up watching Rodney Dangerfield, Don Rickles, and George Carlin. When I was in high school, I used to go to comedy clubs and see Jerry Seinfeld, Richard Lewis, Gilbert Godfrey, and Paul Reiser. It was my favorite thing to do, I did it practically every single weekend.
What's the strangest thing that's happened to you while on the road?
One time at a show in Virginia, I found out some college students in the audience were driving right back to Philadelphia after the show. I ended up riding with them. It was actually a lot of fun.
What inspired you to start your own podcast? 
What I like about podcasts are that they basically take radio and give it the same unedited purity that stand-up has. It's a great vehicle for a comedian. Like stand-up comedy, you do something that you know tons of other people are doing, but you give it your own unique slant.
Do you feel that stand-up or podcasting is more your niche?
I love both of them for different reasons; I wouldn't want to pick. (by the way, I'm paranoid that all my answers are so straightforward and not funny. But unfortunately whenever I talk about comedy I'm so serious. If you come see me, I promise I'm funnier when I do my act.)
Do you have any advice for aspiring podcasters and/or comedians?
Get up off your ass and just do it. If you're meant to do it, you're meant to do it.
How did you get involved with The Nerdist?
I've known Chris Hardwick for a long time. I wanted to do a podcast, but with zero of the work part. And when I found out Nerdist Industries had a division that was producing podcasts, I thought it would be a great idea for me to join them. Plus, Chris Hardwick begged and pleaded with me. Or wait, maybe it was the other way around.
Music plays a prominent role in your podcast episodes – do you personally have a musical background?
No, but I love finding old, weird music on YouTube and playing it on the show. (Again, sorry for the boring, short answer.)
What is your favorite type of music and who are some of your favorite artists?
Well, if you listen to the music on my iPod, there would be some music on there that would be current bands or artists that I love, and there would also be everything from honky tonk, rap, blues, country, rock, big bands, 60s, 70s, 80s, and disco. My music taste is all over the place.