Marc Maron is a stand-up comic, radio and television personality, and host of the popular podcast "WTF?". A veteran of the New York alternative comedy scene, Maron has also made frequent appearances on programs such as The Late Show with David Letterman, Tough Crowd with Colin Quinn, and Late Night with Conan O'Brien, on which he performed more times than any other comedian. He had his own one-man off-Broadway show, Jerusalem Syndrome, in 2000, which was later released as a book. Maron has been the host of several politically-themed shows for the Air America network, and began recording "WTF?" out of his garage in 2009. It was awarded "Best Comedy Podcast" at the 2012 Comedy Central podcast awards.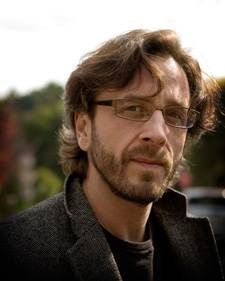 What made you first want to create a podcast?
Desperation.
Which have been some of your favorite WTF episodes, and why?
I like all of them for different reasons. Every one has moments that I would have never expected.
When did the "cat ranch" first come into being?
I bought the house in 2004. I had two cats. One died. Got another and then rescued two more. Then strays started to hang out. It felt like a cat ranch.
What originally inspired you to become a comedian?
A childhood love of comedians.
What's the best pastry or baked good a fan has brought to one of your shows?
There's really been so many. Most baked goods are pretty good on some level.
Is it difficult to maintain sobriety while touring?
I've been sober for almost 13 years. I really don't think about drinking anymore. So, no.
What's the most disturbing Marc Maron dream a fan has told you about?
They're all equally disturbing as they are flattering.
Do you think the growth of podcasting has significantly changed the comedy scene?
It has for me. 3 years ago I couldn't get work. Now I can sell out certain places.
What's your favorite neurosis?
The binging part of the eating disorder.
Any plans to leave the garage again soon?
I don't live in there. So, yeah.